SPIRIT
LODGE


LIBRARY

Myth & Lore

Page 54
(Main Links of the site are right at the bottom of the page)
Some of the 86 pages in this Myth & Lore section are below. The rest will be found HERE
The Guardian of the Pools
From Legends of the Mighty Sioux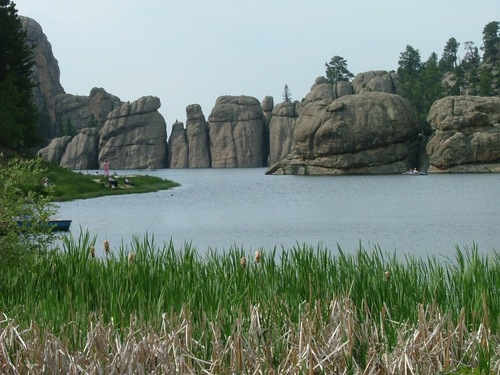 Sylvan Lake, SD
Long ago there was a great drought even in the Black Hills. The mountain streams no longer san their way over the rocks. Slowly the streams grew smaller until they were dry, and the grass turned brown. Only the spring in a certain gulch was flowing and water stayed in two pools nearby.
To the pools came all living things. Men, women, and children came to quench their thirst and to forget the hard season. And to the pools also came the beasts--the beavers, deer, bears, and buffaloes, as well as the snakes and burrowing animals.
There was water enough for all, but the animals were not clean and left it dirty. It brought sickness to many of those who had to drink it. Not other springs could be found, and the people were very sad.
Then the Mighty Spirit took pity on them and said, "I will send a guardian who will drive away the animals and keep pure the water of the pools."
When morning came the people saw a strange sight. Over the pools stood a woman, tall and stately, her head bowed as she gazed into the precious water.
The stone figure of the woman who guards the pools still stands in the gulch below what is now Sylvan Lake.
© Copyright: Cinnamon Moon & River WildFire Moon (Founders.) 2000-date
All rights reserved.

Site constructed by Dragonfly Dezignz 1998-date